Penelope Roskell is recognised as an outstanding performer at international level.
She made her professional debut aged nineteen in a tour with the Bournemouth Sinfonietta conducted by Simon Rattle. Since then she has performed as a soloist at major concert halls throughout Britain, including the Barbican Concert Hall (with the London Mozart Players conducted by Daniel Harding), the Wigmore Hall, Bridgewater Hall, Queen Elizabeth Hall and the Purcell Room. She has also given solo tours in over thirty countries in Western and Eastern Europe, the United States, Africa, Asia, and the Middle and Far East.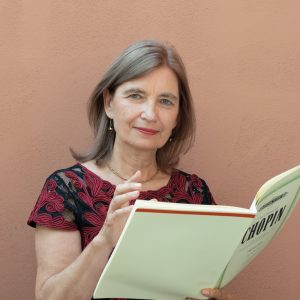 She won first prize in the British Contemporary Piano Competition and second prize in the National Concerto Competition, which resulted in the offer of over fifty engagements, including eight recitals in Hans Warner Henze's festivals in Munich and Montepulciano. She has made numerous broadcasts on BBC radio, WFMT Radio in Chicago and British, Polish and Greek television and has recorded for Sony with Aquarius.
In between her busy teaching schedule, Penelope still performs as a soloist and in chamber ensemble with the Roskell Piano Trio and the Fitzwilliam String Quartet.
She has been a member of the jury for many competitions, including the BBC Young Musician of the Year, the British Contemporary Piano Competition and the David Parkhouse Award.
She has been Artistic Director of the Sutton House Music Society since 1990, where she performs regularly.
Penelope's experience as a performer informs and deepens all her work as a teacher.
Some of Penelope's concerts can be viewed on her Youtube page including the recital celebrating the launch of her book, The Complete Pianist. This concert features Chopin Nocturne and third Ballade and Schubert Sonata in Bb D960.  Click here to view and subscribe to Penelope's Youtube channel.
Hear about Penelope's performance dates by signing up to the mailing list.
Penelope Roskell has light, nimble fingers and an imagination to match. Everything , in fact, is minutely thought through and faultlessly achieved.
This intelligent pianist was able to offer a stimulating recital. Here was a chance to observe Roskell's dignified power, her smooth runs and the contrapuntal clarity. Her fine performance suggests that she could play anything.
With obvious relish and evident skill, Penelope Roskell undertook the arduous task of interpreting both of Shostakovitch's piano concertos. Her sensitivity to the underlying melodic impulse enabled both the high spirits of the fast outer movements and the romantic languor of the central slow one to come across with complete conviction.
Penelope Roskell played (Debussy Preludes Book 1) with dedication and sensitivity ...she felt and played from inside the music's magically sonorous world, and articulated with style
Krenek..an inspired piano part brilliantly played by Penelope Roskell
Schumann's music...beautifully played by Penelope Roskell
The lightness of the sparkling string introduction (Mozart Piano Concerto No 14 in piano quintet arrangement) created a wonderful backdrop for the majestic solo entries; with almost effortless ease, Roskell answered light phrases in the quartet with passages of fiendish virtuosity, alternating long brilliant flourishes with intimate lyricism.