Rave reviews coming in for The Complete Pianist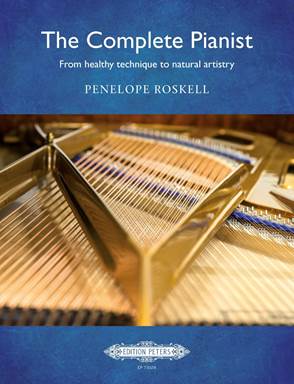 This is an extraordinary, universal book which covers virtually everything to do with healthy piano playing, technique and development in less than 600 pages. Penelope Roskell is a remarkable musician, fusing over 40 years of professional performing and teaching with a knowledge and practice of yoga, an easy to understand and elegant style of writing and tremendous practicality for the essentials of vibrant technical development. This work is her testament to pianists and teachers of all ages and comes complete with about 250 exercises, QR codes for direct links to excellent videos, and much humour, wisdom and intelligence. There is so much to say about this encyclopaedic work! A few examples of its brilliance will have to suffice- Roskell's description of how to develop 'Jeu Perle' is outstanding, as is her detailed classification of how to play chords. Her original exercises and concepts include the hugely useful 'Parachute touch' as well as a whole series of innovative yet natural fingerings for scales. The book includes an invaluable glossary which helps with every section of this monumental work.
Alexander Thompson, Piano Journal
Ms Roskell's book demonstrates that she has a profound understanding of the obstacles …encountered by pianists of any age, and an ability to express that understanding in logical terms. This has been gained through experience as both teacher and performer … and a remarkable ability to analyse problems and suggest positive solutions. With her words and countless examples she helps the reader to see the wood for the trees. This renders her book invaluable for young artists, but also for pianists wishing to return to – or even to start – with the piano at a later stage. I wish I had had access to her book when I was younger.
Peter Donohoe CBE
The Complete Pianist  is … one of the most significant volumes on piano technique to appear in recent decades. It is a remarkable achievement, a comprehensive manual for pianists and teachers, packed with invaluable accumulated wisdom and intelligent advice, and excellent supporting materials. Penelope Roskell simplifies the craft and art of piano playing, without ever devaluing musical ability, talent and artistry, and provides pianists with the tools to practice and work independently, yet with the sense of a supportive, sympathetic teacher always at one's side, encouraging one to continually develop one's artistic skill. Highly recommended
The cross-eyed pianist blog