The Complete Pianist Review: Piano Magazine USA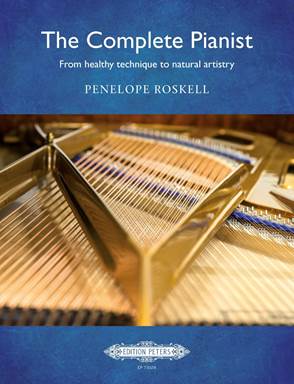 THE COMPLETE PIANIST: FROM HEALTHY TECHNIQUE  TO NATURAL ARTISTRY, by Penelope Roskell 
review by Julie Miller 
Penelope Roskell has created an encyclopedic masterpiece of pianistic wisdom, based on a fruitful performing and teaching career, and fueled by her quest for a healthy,  injury-free approach to the piano. The Complete Pianist is divided into three parts: "Healthy Technique," "Natural  Artistry," and "Healthy and Inspired Performance." Each of these large parts is divided into twenty-two sections, and within each section is a varying number of chapters. This structure makes it easy to search for specific topics. At the beginning of the book, Roskell discusses basics appropriate for early levels, such as posture, elbow, wrist, and arm alignment, followed by an explanation of touches, including the parachute, nimble finger, singing finger, and note endings. She shares advice on every aspect of technique.  Four sections, with fifteen chapters, are devoted to chords,  including widely spaced chords, voicing chords, and powerful chords and octaves for advanced pianists. There are numerous musical excerpts which address a specific interpretive or technical issue. Roskell has also created 250  exercises, designed to improve mastery in many basic and advanced areas. Finally, she has included over 300 online video demonstrations, which are very helpful and accessible.
There are six sections under the topic of natural artistry,  covering such things as tone, texture, pedalling, ensemble playing, memorizing, and sight-reading. The chosen musical excerpts are great fun to sight-read. Throughout,
the author shows how to achieve a musical goal, and also how to teach it. Her philosophy is apparently that if students don't innately possess a certain skill, they can learn it with proper guidance.
Roskell's teaching and playing ideas are natural and holistic, and she addresses them extensively in the "Healthy  Technique" section. "Healthy and Inspired Performance"  follows, and includes discussions about preventing injury,  warning signs, issues with small hands, tension, legato and chromatic octave fingerings, and solutions for a narrow hand span.
Other topics of interest are the use of smaller-scaled keyboards and whether or not to "cheat" with regard to redistribution between hands, arpeggiating, or creating a grace note when the notes cannot be played as written.  After a close look at forearm tension, including numerous suggestions, Roskell concludes by encouraging pianists to seek medical advice when necessary.
"Movements are then minimized  to achieve greater and greater  control and accuracy, but without  losing the initial freedom."
The final section, "The Inspired Pianist," covers several  ideas, including "accuracy and the myth of perfection."  Roskell states, "Throughout this book, my aim has been to show how to achieve freedom of movement first and foremost. Movements are then minimized to achieve greater and greater control and accuracy, but without losing the initial freedom."1 When the performance arrives,  "we are no longer preparing, we are creating, and in the act of creating there is no place for fear—just an openness to discovery. Our mind, spirit, imagination and heart  work together to will the sound into being, and our body  responds confidently, spontaneously, and accurately." The  author continues with "Motivation: confidence, keeping  the flame alive." Some of the ideas are: keep practice focused and varied, set goals, give yourself incentives, be kind to yourself, and celebrate small achievements. Further topics in this section are performances, anxiety, breathing,  sharing, and engaging with the audience. Roskell encourages pianists to become well-rounded humans, saying,
"Living in an ivory tower may give you more hours to devote to your practice, but some of that time may have been spent more profitably going to an art gallery, watching the sunset, or helping a distressed friend. Experience life as well as art,  and the wealth of your experience will shine through in  your own playing."
Roskell's monumental book is the culmination of fifteen years of writing. Always encouraging and inspiring,  The Complete Pianist is also straightforward and easy to understand. This treasure-trove covers almost every topic imaginable related to musicianship and reflects the author's background in yoga, tai chi, Alexander Technique,  the Feldenkrais Method, and anatomy, as well as her rich piano background and her own research utilizing ideas from all of the above. I highly recommend The Complete  Pianist for every undergraduate and graduate piano major,  dedicated piano teacher, and any other pianist with a  keen desire to improve. (Edition Peters, 558 pages, $59)
JULIE WELSH MILLER has taught piano in Oklahoma,  Arkansas, Michigan, California, Louisiana, and New York. She is a staff pianist at the Crane School of Music (SUNY Potsdam) and editor at Lorica Press,  specializing in the music of Keith Gates.